Thank You for Your Interest in Thundering Aspens
In operation since 1987, Thundering Aspens is a private sportsman club. We have become the destination for shooting sports in the Grand Traverse area. We proudly host the Ruffed Grouse Society Spring Field Trial, N.A.S.H.D.A. and N.A.V.H.D.A. Field Trials, Scout Support Outdoorama, and Hunter's Safety Youth shoots. Thundering Aspens has been featured several times on national television hosting the Outdoor Channels, American Birdhunter Series and Outdoor America.
Blending all four seasons at "melt-off", "Cast and Blast" gets under way with hard hitting Brown Trout and Steelhead off the surf in Lake Michigan from boat or shore, a catered gourmet lunch at our log cabin lodge then out to the thickets where coveys of quail and partridge put upland finesse to the test. After the first of May the Hunting Clays Course comes alive with activity. Simulating the flight of upland and waterfowl wings the shooter's skill is sharpened to a fine point from wooded thickets to open hay fields to brushy hillsides. Chukar hunting is available on the rolling hills throughout the spring, or combined with golfing on the greens at Crystal Mountain Resort in nearby Thompsonville for "Swing and Wing" full day activities. The summer months offer some of the finest fishing opportunities found anywhere in the country, from deep water Lake Trout and Whitefish to Walleye, Smallmouth Bass and panfish galore on local inland waters. Fall is a blaze of action and color. Nestled in the auburn and crimson hills of the Huron Manistee National Forest, the sounds of upland thunder and cackles echo through the river valley. The scent of gamebirds, aging sorghum fields, wet bird dogs and spent shotshells lure the wingshooter. "Cast and Blast" for hook straightening Salmon and Lake Trout is under way on the "Big Water". After a fine lunch in the lodge it's out to the fence rows for an exciting afternoon of pheasant hunting, then back to the lodge to relax by the fire for "tallll tales" of the day's adventure.
Thundering Aspens also offers half and full day grouse and woodcock hunts in the bird rich thickets of the surrounding area. Time seems to stand still as you close in on our blue ribbon Aspen line Brittanys sculptured on point, but shoot fast before the thunder passes! When the woods drop their garments and white powder blankets the landscape, cabin fever is never a concern at Thundering Aspens. Rainbows of gaudy roosters explode from the drifts to entice the gunner on snowshoes. Combine winter hunting with top notch fishing on the "hard water". Frigid temperatures are not a problem as you ice Lake Trout, Whitefish, Walleye, panfish or Smelt from heated shanties. This cornucopia of outdoor activity awaits you and your guests or clients at Thundering Aspens. In addition to the information here, we can customize a day of activities for you and your guests. Upon request, smoked or fresh meat packages are available. Also, framed group pictures, action photos, or videos of your adventure. Trophy mounts are available at our onsite Wildlife Artistry studio. A blaze orange cap or vest is required for upland hunting. Ear and eye protection required for clays. Thundering Aspens is a non-toxic shot facility. We at Thundering Aspens look forward to serving you an adventure not soon forgotten!
Thank you and good hunting!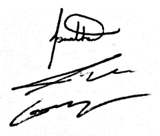 Jonathan, Jason, Gregory
The Wright Brothers
"We operate in a different field of aviation"